Development of Processing Conditions for Manufacture of Reliable Advanced Ceramic Preforms and Ceramic Matrix Composites.
Ceramic materials offer many favorable properties including high strength, wear resistance, high hardness, and chemical resistance. However, ceramics suffer from brittle or catastrophic failure under loading due to low fracture toughness. Therefore, ceramics are under-utilized in many application areas which would otherwise benefit from the advantageous properties that ceramics possess. Additionally, the processing of advanced ceramics and ceramic composites is often complex. There is a high cost associated with producing complex three-dimensional ceramic parts. Near-net-shape or net-shape processing is favored because machining of ceramics is costly. Furthermore, ceramics are prone to flaw incorporation during processing. These flaws are points of stress concentration and lead to a reduction in properties. The addition of a secondary phase within the ceramic may improve the toughness and also alter the failure mode.
The determination of repeatable and reliable manufacturing methods that are capable of producing complex ceramics and ceramic composites is necessary. This may lead to a reduction in cost, improvement of mechanical properties, and utilization of ceramics and ceramic composites in many applications where these materials are otherwise under-utilized.  A thorough understanding of the relationships between the processing techniques, the resulting microstructure, and the properties of ceramic materials is thus required.
Road Map to Ceramic-Metal Composite Fabrication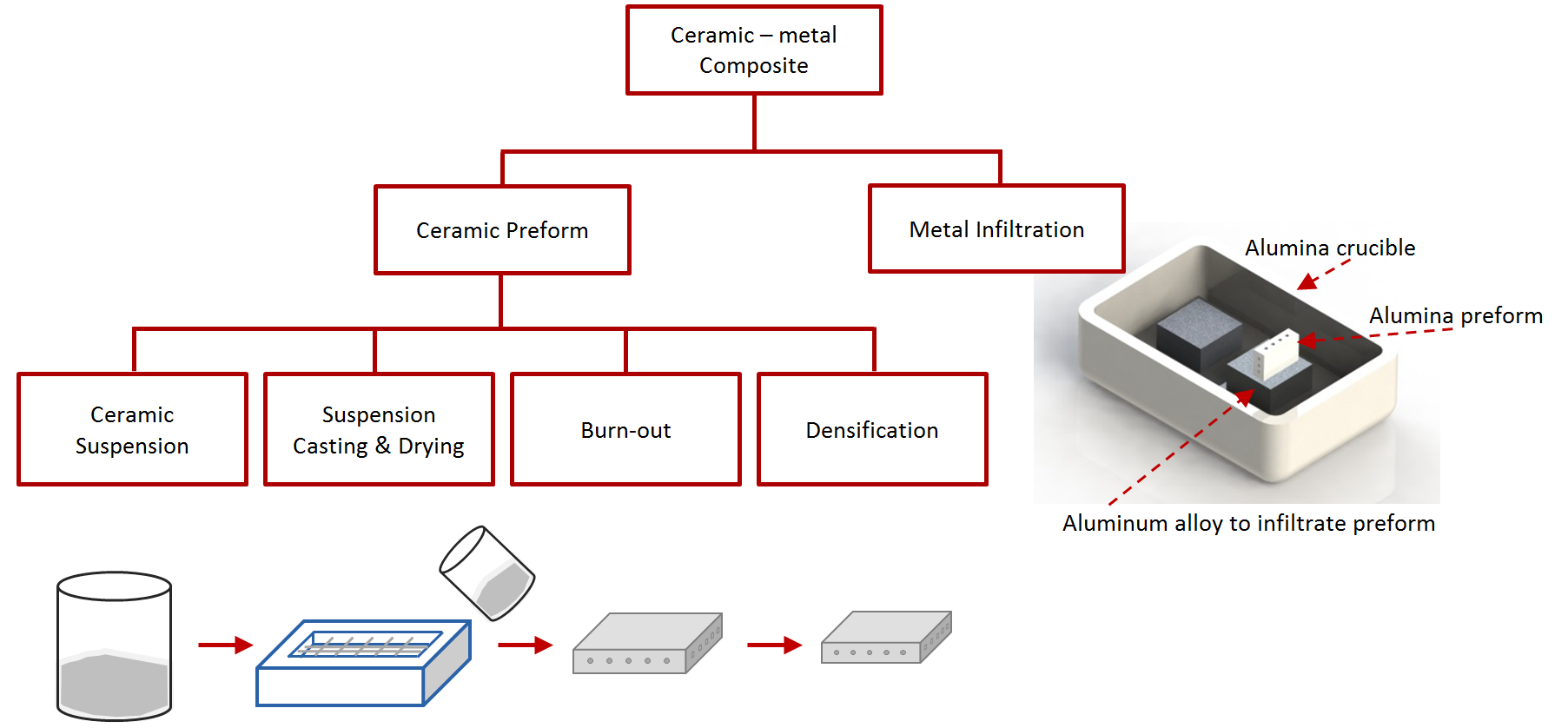 The proposed research involves the fabrication of tailorable ceramic preforms with multidimensional vascularity and the utilization of these preforms in the fabrication of ceramic-metal composites. During the colloidal processing of the ceramic, a sacrificial template will be incorporated to act as a place holder for the vascular network. Once the sacrificial template is removed from the ceramic, a network of hollow channels is left behind.  The sacrificial template can be altered to provide the desired internal geometry. The vascular network has the potential to be used in a variety of ways befitting the application. An objective of the proposed research is to investigate the use of the ceramic as a preform for composite manufacture. The network of hollow channels will be infiltrated with an aluminum alloy. The overall concept is to improve the ceramic properties through the use of specific processing techniques and through the addition of a ductile phase. Investigation of the mechanical properties will be conducted to determine the effects of the reinforcement geometry on the properties of the composite.